fri03may(may 3)10:00 amsat04(may 4)10:00 pmFeatured2024 District 56 Spring ConferenceWe cannot wait to see you.10:00 am - 10:00 pm (4) Hotel Derek, 2525 West Loop South Event Organized By: Elizabeth Ruiz, DTM, 2023-2024 Program Quality Director Event TagsSpring Conference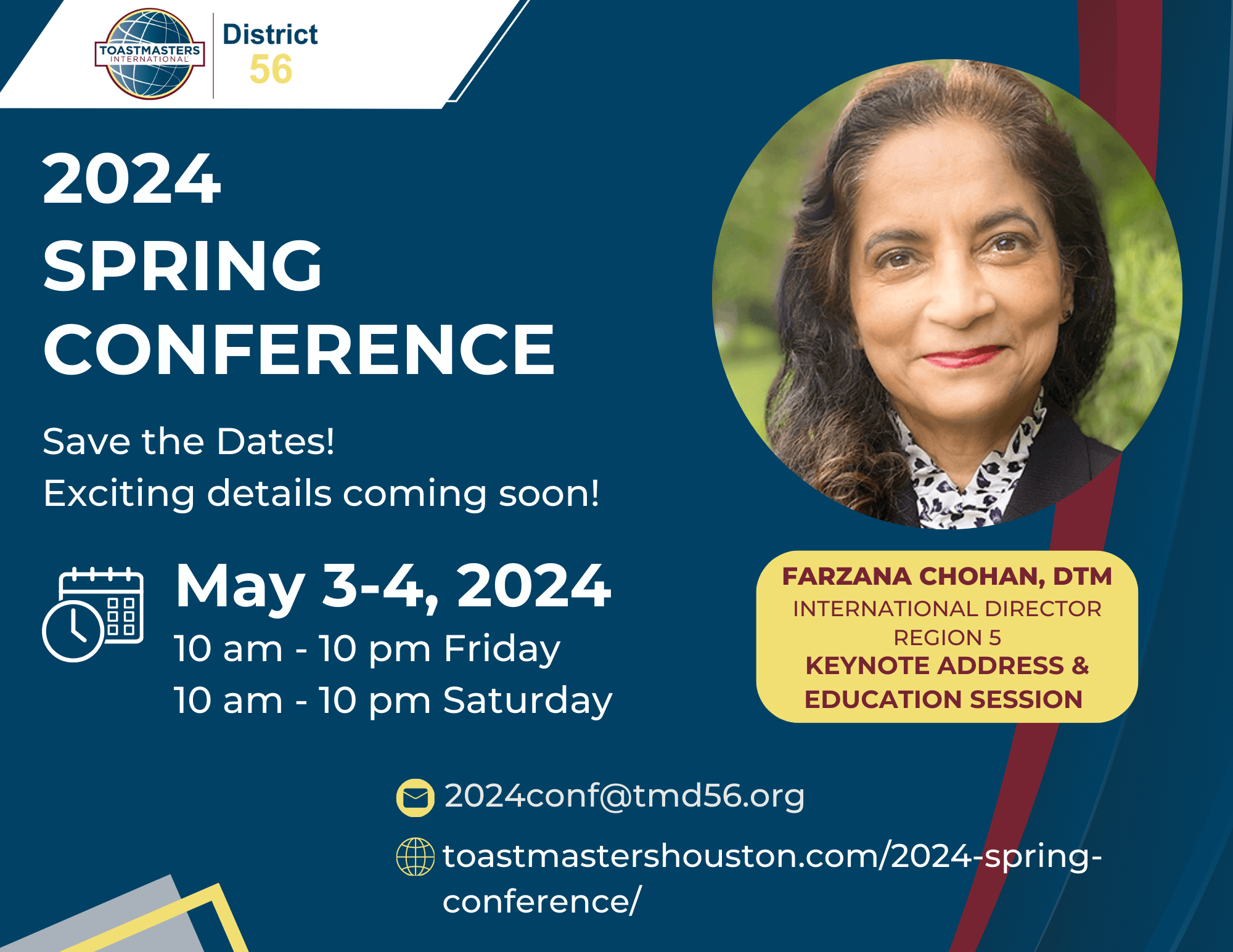 Event Details
Save the dates! Scroll down to the Event Speaker section for a peek into a few of our conference speakers and chair lineup. Return often for updates. Early bird tickets on sale now!
Act NOW! Get your all-access 2024 District 56 Spring Conference Tickets today.
Ticket Price Schedule is as follows:
$65 Fall Education Summit Attendee Special Tickets until November 13, 2023
$100 Early Bird Tickets until December 31, 2023
$125 Conference Tickets from January 1 – March 31, 2024
$150 Last Opportunity Tickets from April 1 – May 4, 2024
Tickets include Full Access to the Conference 10 AM – 10 PM, Friday and Saturday, May 3 and 4, 2024, including Lunch, Dinner, Beverages, and Break Stations on both Conference Dates.
Our Spring Conference Venue, Hotel Derek, has substance and style. Hotel Derek is between the Houston Galleria and the River Oaks district, making it a perfect location for local and out-of-town attendees.
Hotel Derek is an eclectic tribute to the spirit of Houston. A place to revel, to relax, to create, and meet. The hotel was built on a culture of bold thinking, vibrant style, and Texas hospitality.
Hotel Derek includes high-speed internet access, a full-service business center, and gourmet catering. The Hotel is in the fashionable Galleria and River Oaks District, surrounded by the most prestigious shopping, entertainment, and area attractions, where unparalleled service and designer amenities allow you to appreciate being in the moment and inside the loop.
Houston Hobby Airport is 17 miles away.
George Bush Airport is 25 miles away.
If you stay at the Hotel Derek in one of our Spring Conference blocked rooms, the hotel offers a 24/7 gym overlooking the pool featuring free weights and cardio machines, a pool, clothes pressing, laundry services, and much more.
Texas Residents Save 15%
Save 15% on your room rate
Complimentary self-parking ($28/night value)
Breakfast for two included
1pm late departure
Use Promo Code TEXAN
Hotel Derek is a pet-friendly hotel too.
BUY TICKETS NOW:
Or purchase tickets by scanning the QR code:

PROGRAM BOOK ADVERTISING: Buy Ad Space in the District 56 Spring Conference Program Book. Select ad size here or scan QR code.

CALL FOR SPONSORS: Help us offset costs for the District Spring Conference by sponsoring the 2024 District 56 Spring Conference. To get started please fill out the sponsor form here.
Acceptable Sponsorships
In-kind sponsorship (e.g., printing)
Money
Products (e.g. pens, bags, notebooks)
Services
CALL FOR SILENT AUCTION ITEMS: Donate products or services to the Spring Conference Silent Auction. Fill out form here to get started.
CALL FOR CONFERENCE VOLUNTEERS: Sign up as a Conference Volunteer. Fill out form here to serve in one-hour increments at the Spring Conference
Limited tickets are available.
more
Time

3 (Friday) 10:00 am - 4 (Saturday) 10:00 pm
Location

Hotel Derek

2525 West Loop South
Organizer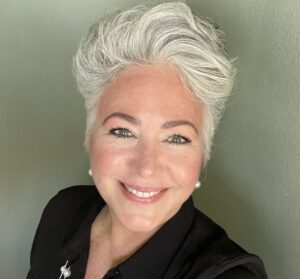 Elizabeth Ruiz, DTM, 2023-2024 Program Quality DirectorHonored to serve as your Program Quality Director (PQD)! The Program Quality Team will leave no Toastmaster behind. For example, we have planned new member orientations, club officer information sessions for aspiring club leaders to help all clubs have 7 club officers at all times, Pathways training and enrollment for Toastmasters who are not enrolled, speech contest and functionary training well before the season begins to help all clubs plan, prepare and lead a successful and fun club contest, and form a full pipeline of trained speech contest functionaries. The Program Quality Team will include all Toastmasters in recognitions earned; no Toastmaster will be left behind. As the PQD, I am responsible for all aspects of education and training within the District. This includes supporting quality club programming efforts, promoting the Distinguished Club Program, and planning and executing the District conference. Education Goals: I promote all members in achieving education awards and recognizing those achievements. I oversee and promote training for club, area, and division officers. Training Programs: I plan, organize, and direct the district's training programs. District Conference: I am responsible for all aspects of the district conference. I plan, organize and direct the event. Speech Contests: I coordinate and supervise the International Speech Contest at the district level and facilitate a smooth flow of information at speech contests. This is the year to elevate a strong foundation of quality clubs! The PQD Team will help every club meet its educational goals and become a Distinguished quality club. Ready for some FUN? Register now on the District calendar for our fun and exciting events and training in the 2023-2024 year.
Speakers for this event
Alan Steinberg

Alan Steinberg

District Conference Karaoke Chair & DJ

Alan Steinberg is new to Toastmasters, joining the Daybreakers Club in Fall 2023. He serves as the President/CEO of the West Houston Association, working with industry leaders who collaborate, educate, and advocate to improve the quality of life, experience, and opportunity for 2,000,000+ people who live, work, and play in the 1,200 sq mile Greater West Houston region and beyond. Alan is involved with the community, serving on the Harris County MUD 500 board, the Memorial Management District, the Houston Clean City Commission, the Alief Super Neighborhood Council, Leadership Houston, the UH Katy Advisory Committee, and the Volunteer Houston Advisory Committee. Most notably, as you can tell from the boots and hat, he is also very involved with the Houston Livestock Show and Rodeo. He holds a Ph.D. in Political Science from the University of Houston and is always ready to work with others to make Houston an increasingly better place to live, work, and play.

District Conference Karaoke Chair & DJ

Alison Nissen, DTM, District Conference Master of Ceremonies

Alison Nissen, DTM, District Conference Master of Ceremonies

Friday, May 3, 2024

Friday, May 3, 2024

Anastasia Wilson, District Conference Hospitality Suites Chair

Anastasia Wilson, District Conference Hospitality Suites Chair

Andrew Paultanis, DTM

Andrew Paultanis, DTM

District Conference Author\'s Corner Chair

District Conference Author\'s Corner Chair

Angela Tornes, DTM, Past District 43 Director

Angela Tornes, DTM, Past District 43 Director

Education Session

Education Session

Basma Kakoun, DTM

Basma Kakoun, DTM

District Conference Entrepreneur's Corner Chair

District Conference Entrepreneur's Corner Chair

Becky Fields, District Conference Gift Bag Co-Chair

Becky Fields, District Conference Gift Bag Co-Chair

Gift Bag Co-Chair for Saturday, May 4, 2024

Charlie Pitts, DTM, Past Distinguished District Governor

Charlie Pitts, DTM, Past Distinguished District Governor

Education Session

Education Session

Cynthia Abdon, DTM, Distinguished Toastmaster Chair

Cynthia Abdon, DTM, Distinguished Toastmaster Chair

Distinguished Toastmaster (DTM) Ceremony

Cynthia Stephanie Abdon, DTM, is a long-time Toastmaster. Outside of Toastmasters, she has a Bachelor of Science Degree in Economics and a Master of Business Administration Degree (MBA). She was a business strategy consultant, project manager, intelligence analyst, and tax advisor in companies belonging to engineering, high-tech, oil and gas, and oilfield services. She is currently concentrating on international VAT taxes. In Toastmasters, her past district roles included: Toastmasters Pathways Ambassador, Public Relations Officer, TLI Chair, Realignment Chair, and other district chair roles. She was a Past Distinguished Area Governor and Past President's Distinguished Division M Governor --"Division Governor of the Year Awardee 2013-2014". In recent years, she served as District 56 Speechcraft Chair and Club Officer Trainer. Last year she served as Area R64 Director and a Club Officer Trainer. This Toastmasters year, Cynthia is the DTM Chair, and serving on the Club Officer Training Team. She is currently a member of four clubs: Deerwood Toastmasters, Master Evaluators (where she was Past President), her home club, C&F (Current and Future) Leaders Club, an advanced President's Distinguished Club (9 years in a row since inception) which she founded and sponsored in 2014, calling it, "The Leaders' Ship, and her most recent club she chartered, and is a charter member, club sponsor, and club member of, POP Houston Toastmasters Club. She created the One-Day-5-Hour Speechcraft and the C&F Valentine and Fall DTM-a-Thons that served her club (C&F) and other clubs for seven years, contributing at least 10 DTMs per year to District 56. Beliefs: She strongly believes in Toastmasters' values of Respect, Integrity, Service, and Excellence. Passion: Help other Toastmasters as a District 56 Trainer using the prescribed training materials and sharing years of experience as a leader and Toastmaster.

Distinguished Toastmaster (DTM) Ceremony

Diane Nino, DTM, District Conference Toastmasters Trivia Game Chair

Diane Nino, DTM, District Conference Toastmasters Trivia Game Chair

District Conference AV & Lighting Chair

District Conference AV & Lighting Chair

District Conference Awards Chair

District Conference Awards Chair

District Conference Certificates Chair

District Conference Certificates Chair

District Conference Decorations Chair

District Conference Decorations Chair

District Conference Dignitary Parade Chair

District Conference Dignitary Parade Chair

District Conference Education Chair

District Conference Education Chair

District Conference Gifts Chair

District Conference Gifts Chair

District Conference Hall of Fame Chair

District Conference Hall of Fame Chair

District Conference Photos Chair

District Conference Photos Chair

District Conference Program Book Ad Sales Chair

District Conference Program Book Ad Sales Chair

District Conference Program Book Chair

District Conference Program Book Chair

District Conference Publicity Chair

District Conference Publicity Chair

District Conference Selfie Booth Chair

District Conference Selfie Booth Chair

District Conference Silent Auction Chair

District Conference Silent Auction Chair

District Conference Sponsor Chair

District Conference Sponsor Chair

District Conference Team Building Activity Chair

District Conference Team Building Activity Chair

District Conference Timer Chair

District Conference Timer Chair

District Conference Venue Chair

District Conference Venue Chair

District Conference Volunteer Chair

District Conference Volunteer Chair

Elizabeth Smith, District Conference First Timers Chair

Elizabeth Smith, District Conference First Timers Chair

Elly Hard, DTM, Tall Tales Speech Contest Chief Judge

Elly Hard, DTM, Tall Tales Speech Contest Chief Judge

Farzana Chohan, DTM, Toastmasters International Director, Region 5

Farzana Chohan, DTM, Toastmasters International Director, Region 5

Keynote Address, Education Session, & Fireside Chat

Farzana Chohan, DTM, of Chesterfield, Missouri, is a leadership human-excellence strategist for Optimize Excellence, and has worked in the design thinking industry for over 20 years. In her current role, she leads and tracks the impact of strategic initiatives focused on community engagements, education, equity, inclusion, and culture of belonging. Chohan earned a doctorate degree in management from Webster University in Webster Groves, Missouri. She additionally holds a master's of architecture degree and has completed certification in project management and cognitive behavioral therapy. Chohan has served on the board of Women in Healthcare and the board of the Human Development Foundation (North America). She is a TEDx speaker, and the author of SUBTLE: Phenomenon of "Social Unconscious Biases, Terminating Larger Equity" and Leadership IN Women. A Toastmaster since 2010, Chohan is a member of her home club, Aspiring Speakers in St. Louis. She has held several high-profile leadership positions within Toastmasters and has attained the Distinguished Toastmaster designation—the highest level of educational achievement in the organization. "Everyone around the world can benefit personally and professionally in articulating convincing thoughts and growing as a leader," she says. As a member of the Toastmasters International Board of Directors, Chohan is a "working ambassador" for the organization. She works with the Board to develop, support, and modify the policies and procedures that guide Toastmasters International in fulfilling its mission.

Keynote Address, Education Session, & Fireside Chat

Gail E. Lover, DTM, Past Distinguished District 5 Governor

Gail E. Lover, DTM, Past Distinguished District 5 Governor

Education Session

Gail E. Lover, DTM, PDDG, is a Toastmaster for 25 years August: Serving two Districts - 5 and 56. Currently serving as District 56 Parliamentarian, as well as President of a Presidents Distinguished Toastmaster Club, the Great Communicators of San Diego, her home Club. Toastmaster Lover is also a current Professional Registered Parliamentarian and Genealogy Researcher, a retired public and private educator, a retired jeweler and gemologist jeweler.

Education Session

Gevenia Bradford, DTM, District Conference Gift Bag Co- Chair

Gevenia Bradford, DTM, District Conference Gift Bag Co- Chair

Friday, May 3, 2024, Gift Bag Co-Chair

Harold Eaton, DTM, District Conference Logistics Manager

Harold Eaton, DTM, District Conference Logistics Manager

International Speech Contest Chair

International Speech Contest Chair

Javier Florez, DTM, District Conference Comedy Hour Chair

Javier Florez, DTM, District Conference Comedy Hour Chair

Javier Florez, DTM, has been a member of District 56 for 15 years.  He has taken on several club leadership roles and has been a member of several clubs throughout the district.  He has additionally been an Area Governor, an Area Director, and Public Relations Officer (PRO) for District 56.  He enjoys the process of continuous growth and supporting people with their personal growth in communication, leadership, and personal development.  Toastmasters provides an environment for exploration and creativity in communication which he embraces by getting involved with various activities, hobbies, and professional endeavors, including storytelling, comedy, improvisation, technical training, motivational speaking, and coaching.  He looks forward to supporting District 56 and its members with their educational goals during the upcoming Toastmasters season.

Jo A. Idoux, DTM, Past District Director

Jo A. Idoux, DTM, Past District Director

Candidates Showcase and Education Session

Candidates Showcase and Education Session

Jonetta Barnett

Jonetta Barnett

District Conference Video Chair

I joined The Tomball Toastmasters club to become a better speaker and improve my leadership skills. I helped charter THE Tomball Toastmasters to allow small business owners that have a flexible schedule to improve their speaking skills. My hobbies are gardening, camping, fishing, and challenging myself to improve. I find joy in serving others and always receive more than i give. My church family is a very special part of my life as are my 4 girls and my husband of 33 years. I will always stay in Toastmasters, Every day i learn something.

District Conference Video Chair

Kathryn Kest, DTM, Past District Director

Kathryn Kest, DTM, Past District Director

Pillars of Toastmasters Chair

Pillars of Toastmasters Chair

Latonia Jones, DTM

Latonia Jones, DTM

District Treasurer

District Treasurer

Marcia Hudgens, DTM, Past Distinguished District Governor

Marcia Hudgens, DTM, Past Distinguished District Governor

International Speech Contest Chief Judge

International Speech Contest Chief Judge

Martha Elias, DTM, Past District Director

Martha Elias, DTM, Past District Director

Education Session

I joined Toastmasters to learn how to communicate more effectively. Being a member has really helped me grow in ways I never imagined. Becoming a leader was not something I had set out to do. In becoming a President's Distinguished Area Governor in 2011-2012, I feel that achievement boils down to setting goals, and working toward accomplishing them. Also, I served as the District Club Coach Chair 2012-2013, Lt. Governor Marketing 2014-2015, Program Quality Director 2015-2016, and was elected in May 2016 to serve as the 2016-2017 District Director. Toastmasters enabled me to become the communicator and leader that I am today.

Education Session

Mercedes Balli, DTM, Past Distinguished District 49 Governor

Mercedes Balli, DTM, Past Distinguished District 49 Governor

Education Session

Education Session

Michele Cuellar, DTM

Michele Cuellar, DTM

District Conference Parade of Banners Chair

Hall of Fame: All District 56 Toastmasters Clubs are invited to walk in the Parade of Banners with their club banner while the MC announces the club name and year chartered.

District Conference Parade of Banners Chair

Pamela McCown, DTM, Past International Director

Pamela McCown, DTM, Past International Director

Leadership Panel & Education Session

Join us to meet and learn about the incoming elected District Leaders.

Leadership Panel & Education Session

Pat London, DTM, Past Select Distinguished District Governor

Pat London, DTM, Past Select Distinguished District Governor

Education Session

Education Session

Rae Ann George, DTM, 2024 District Conference Co-Chair

Rae Ann George, DTM, 2024 District Conference Co-Chair

Roop Roy, DTM, Tall Tales Speech Contest Chair

Roop Roy, DTM, Tall Tales Speech Contest Chair

Sharla Ozen, DTM, District Director

Sharla Ozen, DTM, District Director

Annual District Council Meeting Chair

Annual District Council Meeting Chair

Sheryle H. Warren, DTM, Past Distinguished District Director

Sheryle H. Warren, DTM, Past Distinguished District Director

Education Session: Who is your WHY?

Distinguished Toastmaster Sheryle H . Warren will speak about who benefits from someone serving as a Toastmaster, as a club, district or international officer, or as a club SMAC.

Education Session: Who is your WHY?

Tall Tales Speech Contest Toastmaster

Tall Tales Speech Contest Toastmaster

Terrie Green, DTM, 2024 District Conference Co-Chair

Terrie Green, DTM, 2024 District Conference Co-Chair

Todd Corson, Live Entertainment

Todd Corson, Live Entertainment

Fun Friday Live Music Networking Sessions

Opportunities for networking and exchanging ideas while Toastmaster Todd Corson entertains us with his music.

Fun Friday Live Music Networking Sessions

Troy Rockett, District Conference Master of Ceremonies

Troy Rockett, District Conference Master of Ceremonies

Saturday, May 4, 2024

Saturday, May 4, 2024

Zenia Shipp, DTM

Zenia Shipp, DTM

District Conference Registration Chair

Distinguished Toastmaster, Zenia Shipp, is the New Member & Pathways Orientation Chair. She joined Toastmasters in 2014. Zenia has served her clubs in all club officer roles for the past nine years. She has also served as DCP Chair, Area Director, TLI Trainer and Club Growth Chair in District 56. Zenia is the 2017-2018 President's Distinguished Area P4 Director and Spring 2020 Club Vice President Public Relations of the Year Award Recipient.

District Conference Registration Chair