Phillips 66 Toastmaster Spreads Her Wings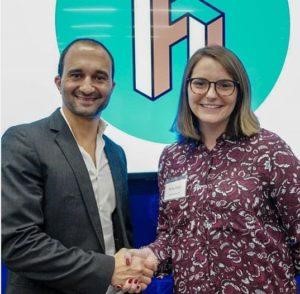 November 2018 District 56 Member Highlight — In September, Phillips 66 HQ Toastmasters (N25) member Emily Cloud was among 10 contestants to pitch a business idea to a panel of high powered business Houston venture capitalists at StartHereNow 2018. Her business plan is to provide flame-resistant ("FR")  clothing, styled for female bodies.  The stakes for her were high – she was tasked with developing a billion dollar business model.  Emily's fellow Toastmasters stepped up to get her prepared and ready.  "I am so thankful for all of the help from my fellow Toastmasters, I had just joined the club and I was blown away by how willing they were to step and help me." said Cloud. "They gave me some great pointers that really helped set me up for success at StartHereNow."
An Oklahoma native, Emily holds an engineering degree and an MBA, and works for Phillips 66.  She joined the Phillips 66 HQ Toastmasters club in September and didn't hesitate to step up when the club Secretary position was unexpectedly vacated.
Emily's Toastmasters family quickly stepped up with support and constructive advice for a 90-second "elevator" speech followed by a 5-7 minute presentation to hundreds.  Two Toastmasters from the club purchased tickets to the event and cheered uproariously with the rest of the audience when Emily nailed her speech.  "We were so proud of her," exclaimed Nancy Mercer, DTM and Division R Director.  "Her quality business idea carried the day, helped along by her commitment to compose and deliver the best speech imaginable."  Emily worked tirelessly on her speeches, listened intently to the recommendations from her Toastmasters friends, and fine-tuned both the content and delivery until it was flawless.  And it paid off.  Emily won Houston People's Choice Prize, the Director's Choice Prize, and 1st runner-up.
Denise Coleman, CC, CL and Area R62 Director, also attended the event, agrees that Emily's hard work and awesome performance was inspiring.  "It's infectious – the enthusiasm and commitment to excellence," remarked Denise.  She added, "any contribution we can make – even the smallest – is rewarding in its own right when you feel the glowing appreciation."
Emily is currently working with business consultants to help fine-tune her business plan and will begin pitching her business to venture capital funds in the near future.  As before, her Toastmasters family will be there to assist in any way possible, and to celebrate her success.
Contributors:  Nancy Mercer, DTM; Joe Gannon, ACB, CL; Denise Coleman, CC, CL; Emily Cloud