wed08nov7:00 pm8:00 pmFeaturedVirtual EventOnline Leadership Elective (OLE) - How to Be a Distinguished ClubRegister now to attend.7:00 pm - 8:00 pm Event Organized By: Elizabeth Ruiz, DTM, 2023-2024 Program Quality Director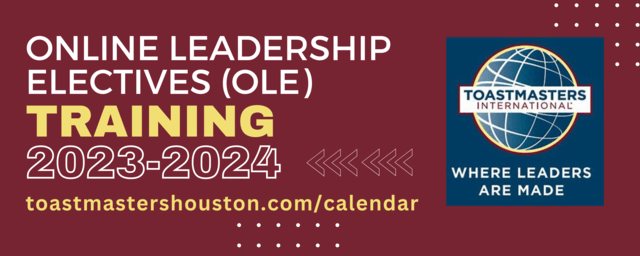 Event Details
The Distinguished Club Program (DCP) includes ten goals your club should strive to achieve yearly.
When your club incorporates Moments of Truth into every meeting, it is already well on reaching these annual goals.
For your convenience, the ten goals have been grouped into four categories:
Six Goals – Education: Members who can earn education awards are reaching their goals.
Two Goals – Membership: When new, dual, and reinstating members join, everyone's experience is enhanced because your club has enough members to provide leadership and fill meeting roles and committee assignments.
One Goal – Training: Trained club officers can better serve and support your club because they know how best to fulfill their roles.
One Goal – Administration: Submitting renewal dues and the club officer list on time will help your club run more smoothly, benefiting your members.
more
Virtual Event Details
RUN
Event has already taken place!
Time

(Wednesday) 7:00 pm - 8:00 pm
Organizer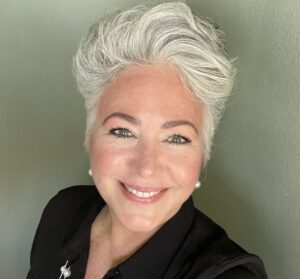 Elizabeth Ruiz, DTM, 2023-2024 Program Quality DirectorHonored to serve as your Program Quality Director (PQD)! The Program Quality Team will leave no Toastmaster behind. For example, we have planned new member orientations, club officer information sessions for aspiring club leaders to help all clubs have 7 club officers at all times, Pathways training and enrollment for Toastmasters who are not enrolled, speech contest and functionary training well before the season begins to help all clubs plan, prepare and lead a successful and fun club contest, and form a full pipeline of trained speech contest functionaries. The Program Quality Team will include all Toastmasters in recognitions earned; no Toastmaster will be left behind. As the PQD, I am responsible for all aspects of education and training within the District. This includes supporting quality club programming efforts, promoting the Distinguished Club Program, and planning and executing the District conference. Education Goals: I promote all members in achieving education awards and recognizing those achievements. I oversee and promote training for club, area, and division officers. Training Programs: I plan, organize, and direct the district's training programs. District Conference: I am responsible for all aspects of the district conference. I plan, organize and direct the event. Speech Contests: I coordinate and supervise the International Speech Contest at the district level and facilitate a smooth flow of information at speech contests. This is the year to elevate a strong foundation of quality clubs! The PQD Team will help every club meet its educational goals and become a Distinguished quality club. Ready for some FUN? Register now on the District calendar for our fun and exciting events and training in the 2023-2024 year.
Speakers for this event
Kate Shi, DTM

Kate Shi, DTM

DCP Chair

Kate is a professional life coach who help others catalyze their success. She is also an avid Toastmaster. Kate first joined Toastmasters club in 2003 while she was living in Calgary Canada yet did not achieve her DTM until 2019. Toastmaster really sharpened her professional and personal communication skills, she is able to expand her horizon to coaching, mentoring and training to raise leaders for different levels of organizations and corporates. Kate keeps learning and developing herself. Her passion of helping people grow and develop to reach their highest potential has motivated her into leadership training and professional coaching. She is currently a member of ICF (Coaching Federation), and a Certified Life Coach with CCA.

DCP Chair