Please join Destined for Excellence as we host
The 2018 World Champion of Public Speaking, Ramona Smith!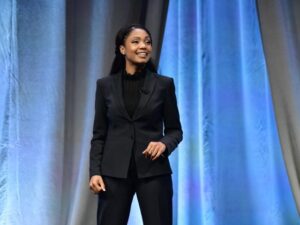 In addition to Ramona's inspiring speech, we will give a few lucky volunteers the opportunity to "think on their feet" with some impromptu speaking opportunities.
See how a Toastmasters meeting works, if you have not seen one.
This will be a fun evening of learning and camaraderie!
September 28, 2020 6:00PM – 7:00 PM
virtually at:
https://mdacc.zoom.us/j/5108313484?pwd=Tkg0VWtuMC90T2huNUMyOEdqajlaUT09