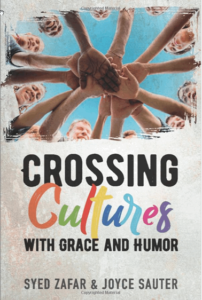 Toastmasters teaches Communication and Leadership skills, it takes both to write a book.
Toastmaster Syed Zafar leads towards Strength Through Diversity
Syed recently published a book titled Crossing Cultures with Grace and Humor that focuses on increasing intercultural understanding.
The book is available in electronic and paper format via Amazon.
—- Syed's Toastmaster Journey —-
Syed's Toastmaster journey began in 1986 when he joined Exxon Toastmaster club in downtown Houston. Syed found comfort in telling his culture shock stories in his speeches because he only arrived in the U.S just 4 years earlier as an international student.
Toastmaster not only helped Syed develop his speaking skills but also help him climbing the corporate ladder while working for Exxon. He recently retired after 35 years of service.
Syed has been pursuing his passion of promoting intercultural understanding for over 30 years through keynote addresses, seminars & workshops. He has presented over 600 programs on Intercultural Communication at corporations, universities and not-for-profit organizations in USA, Canada, UK, Norway, Brazil, Thailand, Singapore, Malaysia, Pakistan and UAE. Syed Zafar was born and raised in Pakistan.  Before coming to the U.S. in 1982, he worked in Saudi Arabia for four years. Experience of living in three different countries provides him a unique perspective on the subject of intercultural communication. Syed has an MBA from University of St. Thomas in Houston and B.S. in Computer Science from University of North Texas.
Syed's Toastmaster awards include: 1987, Area, 2nd Place Humorous; 1991, Area, 2nd Place Evaluation; 1993, Division, 2nd Place International; 2004, Division, 1st Place Humorous; 2020, Division, 2nd Place International.