sat08aug9:00 am10:30 amVirtual EventUnlock the Secrets to Club Success: Distinguished Club Program and your Club Success PlanOnline Leadership Electives (OLE)9:00 am - 10:30 am Central Time Event Organized By: Jo A. Idoux, DTM, Program Quality Director Event TagsClub Success Plan,Distinguished Club Program,Leadership,Online Leadership Electives

Event Details

How to Understand the Distinguished Club Program and your Club Success Plan

Download this resource: Distinguished Club Program and Club Success Plan


Distinguished Club Program
The Distinguished Club Program is an annual program, running from July 1 through June 30.
The program consists of 10 goals for your club to obtain, using the Club Success Plan within this manual as your guide.
To help keep track of your progress toward these goals throughout the year, updated reports are posted daily on the Toastmasters International website.
Your Club Performance Status Report can be found on the Toastmasters International website at: http://dashboards.toastmasters.org/Club.aspx?id=56
At year-end, the number of goals the club achieved is calculated.
Based on the goals met and whether or not the qualifying requirement has been met, the club may be recognized as a Distinguished, Select Distinguished, or President's Distinguished Club.
 Club Success Plan
The Club Executive Committee—which includes all seven officers and the Immediate Past President—develops a Club Success Plan based on the needs and goals of club members.
First, club officers determine how they will communicate, address conflict, and hold themselves accountable.
Secondly, club officers evaluate current situations, establish specific goals, and develop strategies that can be used to achieve success.
To help club officers in that effort, the plan identifies helpful resources that can be used.
Finally, the plan calls for club officers to identify assignments, develop a timetable, and track accomplishments.
==========================
What will attendees learn?

Have you ever wondered about how clubs meet the Distinguished Club Performance goals year after year?  Is your club a Distinguished club every year, or do your club officers and members struggle with setting goals and achieving goals within the club?
Today, we will discuss ways to engage the members in setting goals and supporting each other through club programming and planning.
The secret to success is in the planning.  "What Gets Scheduled Gets Done!" ~ Past International Director, Pamela McCown, DTM
Attend this session to unlock the secrets to success for your club members.  
Learn how to get All you can get out of the Toastmasters experience.
"If you can get ALL you can get out of Toastmasters, then you will never get out of Toastmasters!"
~ Past International President Helen Blanchard, DTM – Toastmasters International's first female International President.
=====================================
Level:  FOR ALL CLUB OFFICERS AND MEMBERS
Learning Objective 1 – Understand the goals on the Distinguished Club Program
Learning Objective 2 – Discuss ways to plan for Distinguished Success
Learning Objective 3 – Participate in an interactive session on Club Success Planning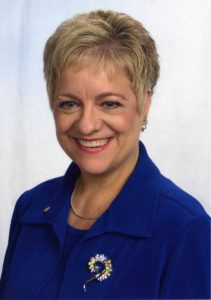 About Pamela McCown: Pamela McCown joined Toastmasters in 2001 for the leadership opportunities.  In only 2 short years after joining Toastmasters, Pamela was elected to serve as a Division Director, she then served in all of the top district offices, followed by a successful campaign to be elected to serve as an International Director on the Toastmasters International Board of Directors.
What makes Pamela a subject matter expert on Distinguished Club Program and Club Success Planning?
She is a charter member of Firm Speakers Toastmasters Club, a President's Distinguished Club since its inception in 2001, and a member of the Premier Leadership Advanced Club in District 56, Dining Out Toastmasters, a President's Distinguished Club since its inception in 2003. She has served in all of the roles on the Club Executive Committee and knows how to organize, plan, deliver and follow up. In this session, Pamela will assist club officers and members in understanding the secrets to club success.
more
Virtual Event Details
RUN
Event has already taken place!
You are the moderator of this event. Access the live stream
Time

(Saturday) 9:00 am - 10:30 am Central Time